If you're into computers and the Internet you'll be interested to learn that as from March 1st we are joining forces with the Internet Craft Fair web-site to bring you up to date news about your favourite craft topics.
The Internet Craft Fair - find it by accessing www.craftfair.co.uk - is a cornucopia of information on everything to do with crafts: hand-made products, materials, events, guilds, training courses, show organisers and of course our own web pages featuring the latest news available. The internet Craft Fair can help you find what you are looking for, as well as being a fascinating browse. Just like a normal craft event, the web site is arranged into 'halls', each with its own speciality.
The Main Hall where you find hand-crafted products, contains a vast array of individually produced products and finding what you need is easy because specialities are grouped together.
The next hall contains a host of materials suppliers with everything for the crafter and hobbyist from cross-stitch kits to blocks of rosewood for carving and so on.
The Events Diary covers the following month's UK craft events, or you can search for particular points of interest or dates of events in your area.
The Craft Publications information includes updates on current issue content, a search facility for back issue articles, subscription offers and editorial highlights.
In The Learning Zone, books and courses can fulfil long held ambitions or resolve short term difficulties in mastering craft skills.
For a deeper level of involvement, take a look at the Guilds and Associations pages where you can find out how to join.
If you are in a hurry and don't have time to browse, the search engine will help you to go straight to where you want to be.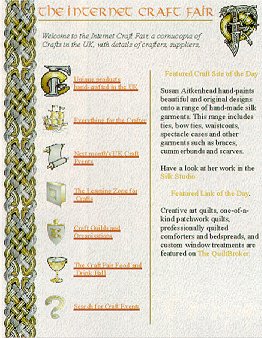 The site directory page showing the different 'Halls' and features of the day. The Internet Craft Fair web site contains over 1000 'exhibitors' and the number is growing very fast, on a daily basis. Practical Craft magazine can be found there by the end of February. Why not look us up?